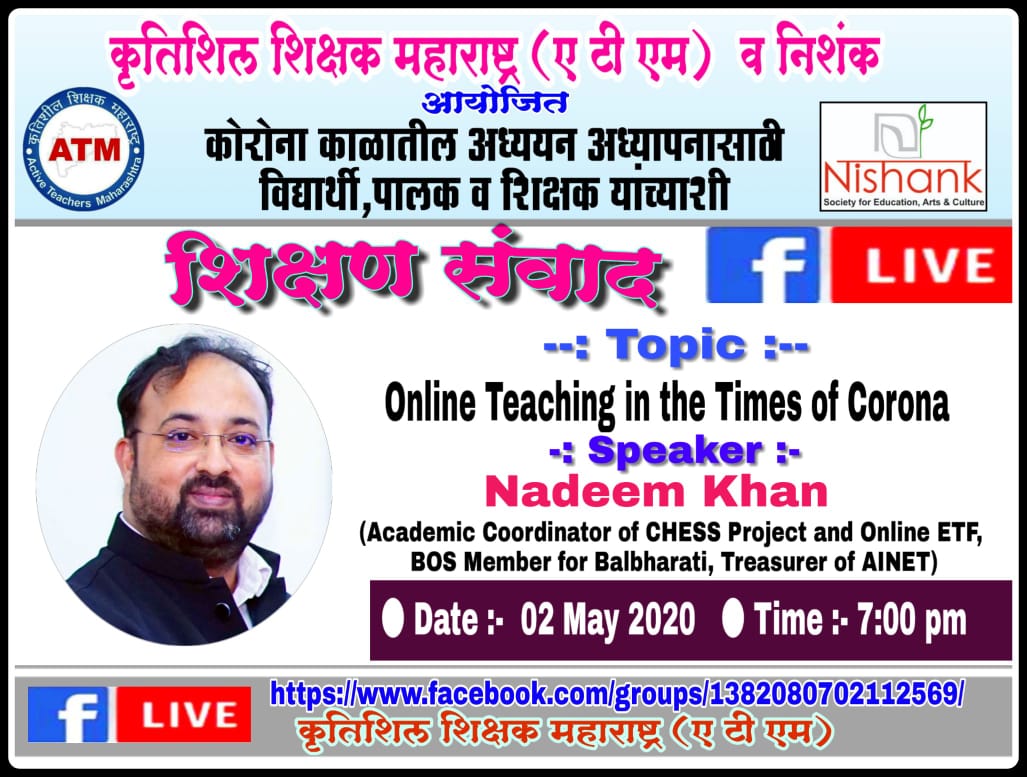 Event Timeline
Date: May 2, 2020
Time: 19:00 to 20:00
Place: Facebook page link: https://www.facebook.com/groups/1382080702112569/ YouTube link:- https://www.youtube.com/channel/UCoZwLmC1zemIcM3m8O0DjUA
Shikshan Sanvad
As we all know the coronavirus is currently causing lockdown not only across the country but also in the world. This forced lockdown has raised many questions in every field of life and especially in education. To find the answers to those questions, we ( Active Teachers Maharashtra ATM ) and Nishank have launched a new Facebook and YouTube Live initiative every day through 'Kritishil Shikshak Maharashtra' (ATM) facebook group and YouTube channel on the auspicious occasion of Maharashtra Day. What should the teachers and parents do for online teaching during Corona period? Starting May 1, we are organizing a dialogue session every day. In the second session of interactive dialogues on May 2, we have:
Subject: –
"Online Teaching in the Times of Corona".
Date: – May 2, 2020
Time: – 7:00 pm.
Speaker : –
Mr. Nadeem Khan
Academic Coordinator of CHESS Project and Online ETF, BOS Member for Balbharati and Treasurer of AINET.
To be streamed L IVE on the Facebook group of Active Teachers Maharashtra (ATM).
If you have any questions, feel free to ask in the comment box during the live session.
Facebook page link:
https://www.facebook.com/groups/1382080702112569/
YouTube link:-
https://www.youtube.com/channel/UCoZwLmC1zemIcM3m8O0DjUA
Note: – If you are not a member of ATM Facebook Group, you can become a member by sending a request.